Hi friends!  Last blog, I mentioned exhibitions in Toronto and how worthwhile they can be.  But these expos happen a precious few times a year, and sometimes we need a solution to break up the mid-week humdrum.  My hubby and I have both been swamped with work lately, so he booked Valentine's Day off to share a "day-date" together.  I guess he knew that if he didn't think of something to do, we'd end up at the movies (again).  When it comes to romance, he's actually the one with the creative bone.  I was super excited when I received a surprise email confirmation for my tickets to the Steven and Chris Show for February 14th, 2012.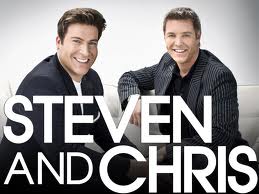 For those who don't know, Steven and Chris are two fellas who host a variety talk show, with tons of personality.  The show airs at 2pm weekdays on CBC (Channel 8 in Toronto). The one we attended will air on Monday February 27th 2012.
Packed into one episode are a variety of topics ranging from baking, DIY projects, fashion tips, health and more.  And the two hosts' energy levels make everything tons of fun!  It was SO easy to score tickets. I just visited their site, clicked on the "Get Tickets" link and selected my preferred date.  You can request tickets a mere seven days in advance, so it's not so hard to plan around. Within 24 hours, I had my email confirmation for my desired date and time (some days have two recordings – morning and afternoon).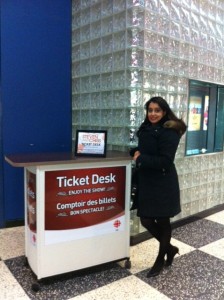 Spoiler alert!
On the day, I headed to the CBC building in downtown Toronto with my date (and photographer) Harvinder.  He makes magic with an iPhone camera. 😉  We took our seats, and lights, camera, action! Ok, it wasn't that dramatic…but was truly cool to witness the production crew in action.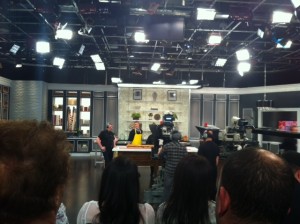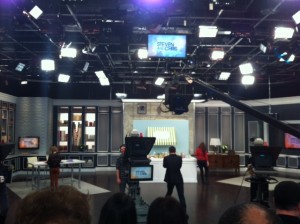 How giddy was I that there was a décor segment??  And for the most adorable event idea ever:
"How to set up an ice cream parlour for a little girl's bday party".
Steven & Chris added flare to a standard table by dressing it up with candies, ice cream cones and cupcakes. (Stick to a few colours to create a bit of a theme.)
Here's some sweet ideas I snagged from pinterest.com. If you haven't been there yet, you NEED to go…it's online crack…really.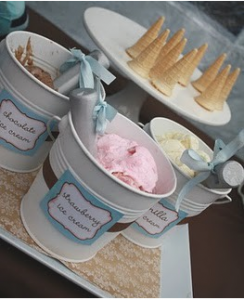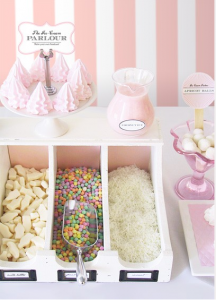 The next session was a light-hearted chat about an often heavy-hearted topic:  "DUMP him or keep him".  The segment featured Hina Khan, Relationship Strategist from Toronto. (You might remember her from the reality show Save us from our House.)
Finally, Chef Lynn Crawford – a regular on the Food Network – cooked and assembled cat fish sandwiches, in case that tickles anyone of your fancies. (Not so much mine!)
Overall, I had a great experience and will definitely do it again…picked up some great tips and had a super Valentine's Day. You should go!  I'm even considering reaching out to them to host a wedding décor segment……:)   If you want to catch it all for yourself, set your PVRs for this Monday, Feb 27th at 2pm.