I'm back people! After a bit of a hiatus (read: husband refused to keep blogging for me) I have once again been bitten by the blog bug. This time the catalyst was the Interior Design Show, held at the Metro Toronto Convention Centre on January 27th, 2012. I'm realizing that so many of the conventions taking place in Toronto are WELL worth the admission prices. Mind you, after I bought my tix, I figured out how to get free ones. Ick…but that's another conversation – and I'll loop you guys in before the next show if I can figure it out again!
'Wondering what Interior Design has to do with special event décor? The answer is EVERYTHING! Trends are infectious. They transcend between all platforms; indoor and outdoor events, interior design, landscaping, textiles, you name it. Any knowledgeable decorator will tell you to get inspiration for your event décor from things you spot and love. If a gorgeous cupcake in a bakery window catches your eye, take a picture! Chances are you'd love to incorporate the frosting colour in your home. Likewise, if you love the print on a dress or wallpaper, you'd probably love it for your wedding invitations.
Here's a rundown of some of the inspiration I took away from the show – and highlights of trends for 2012.
MORE of the same (Yay!): Don't get the wrong idea. When I say "more of the same", I do NOT mean to sound bored! I literally mean more crystal, more mirror, more feather and more lush fabrics…total winners in the pursuit of glam. What could be boring about that??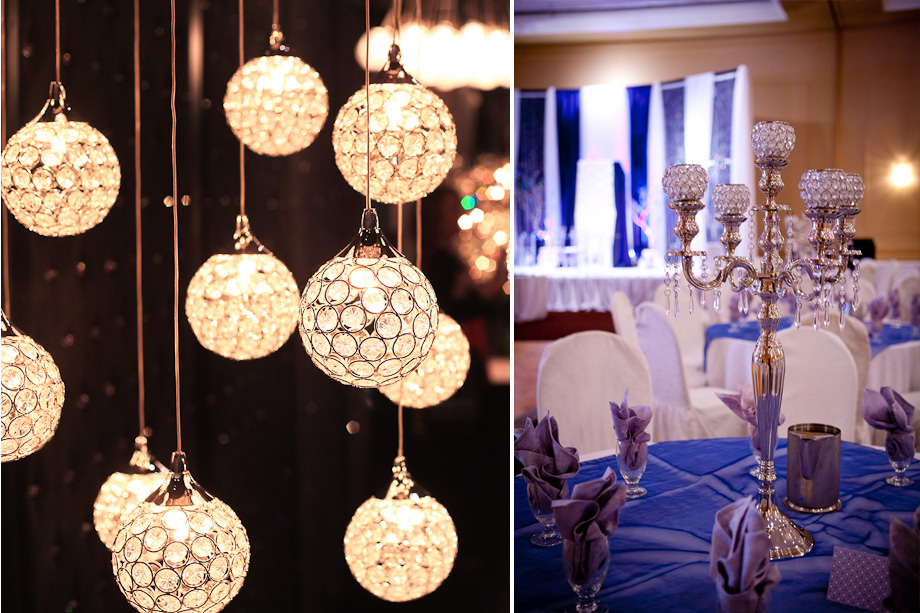 Bling is here to stay, folks – and no one is happier about that than me. Amazing crystal designs were presented at the show. I'm not just talking lamps. I'm talkin' crystal buttons in upholstered headboards (to die for), floral arrangements with crystal embellishment, crystalized cushions….you get my drift.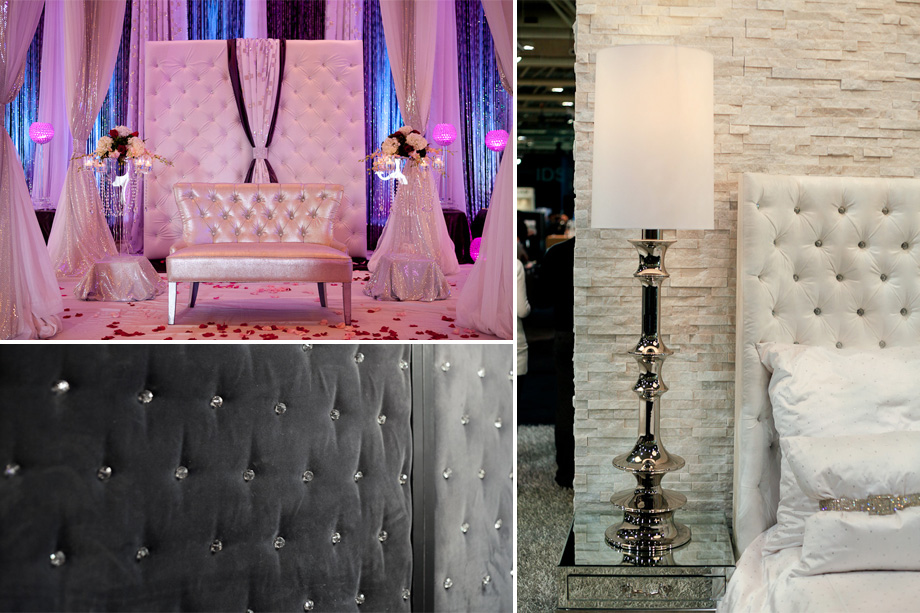 As if the crystals weren't enough, mirrored furniture is everywhere and super-hot. It really does give any room that va va voom factor. Not recommended for homes with small children …those who spend all their free time polishing fingerprints know what I mean. So, are you thinking "that's old news"??….OK, but what about mirrored pillars and fireplaces?
Oh yes, they're here.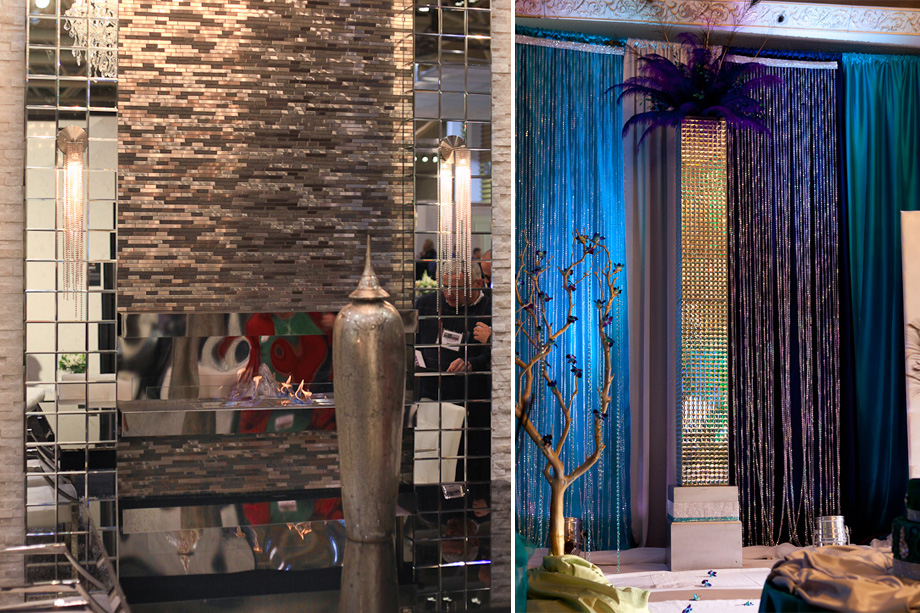 Do you see what I'm saying about the power of "more"? Over the last two to three years, we've seen crystal chandeliers pop up everywhere. Now, the trend seems to be to "clusters" of chandeliers. And, of course…the trend is making its way to the tabletop too. Instead of a solo crystal global centerpiece, consider a trio that will make your guests drool – you can buy the globes yourself at home décor stores or rent from many decorators.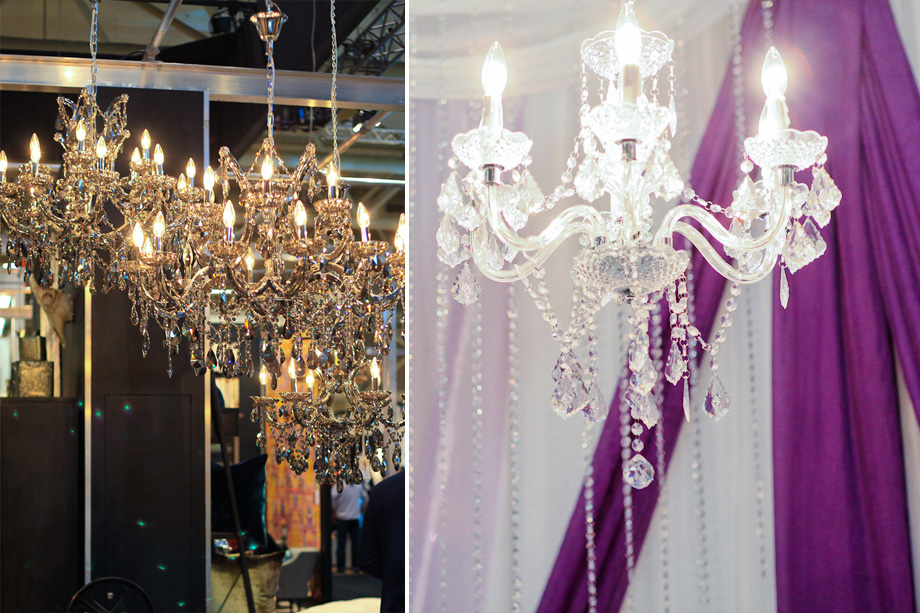 Finally, if you got through the last holiday season without seeing a feather Christmas tree, were you on an island for a few months? And if you took the plunge and bought one – don't worry, your investment is safe! The trend isn't disappearing anytime soon. Great news for decorators, too! Khazana's peacock and feather boa-inspired centrepieces were some of our most popular creations in 2011.
Tons of great trends for this year, and I'm really happy that I got to make my first trip to the show. Thanks to Harvinder for the great photos.
Talk soon!